At Absolute Air, Our People Make the Difference.
A Difference for the Better.
The heating and air conditioning business isn't quite like any other – at least, not through our eyes.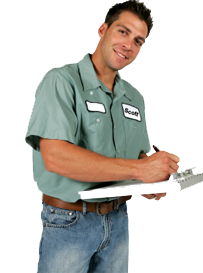 That's because we see ourselves as more than providers of indoor comfort. When we do our job correctly, we make a difference in people's lives. And we work hard every day to make sure those differences are all for the better.
Here are just a few examples of what we mean:
Provide you with greater peace of mind.
Demonstrate that there are still providers who take a genuine interest in your family's well-being.
Show you how you can do much more than make your home warmer or cooler, depending on the season. We can help cut your energy costs, relieve allergy and asthma symptoms, and generally help create a healthier living environment.
Be there to listen when others might not always be so willing.
Never stop working until we have earned your 100% satisfaction.
Send only the best technicians and installer to your home – each one of whom has been thoroughly background-checked and is clean-cut, uniformed, drug-free, courteous, and respectful.
Setting a Higher Standard in Kaufman,
Forney, and Terrell
At Absolute Air, we set the bar high. Not just for what we expect from our team members, but for our company as a whole. We invite you to do the same. As in, it's highly unlikely you'll ever turn to another home comfort provider again.
That's the kind of confidence we have in ourselves. That's how our customers feel about us. And now, we invite you to experience that same high level of service and regard for your family's well-being.
Contact Absolute Air today to learn how we can meet – and exceed – your air conditioning and heating needs.