Choose a Ductless Air System for your Terrell or Forney, TX Home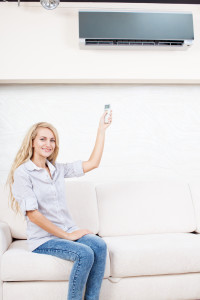 There is a time and a place for everything.
Well, maybe not everything, but certainly ductless air systems.  Here at Absolute Air, we can't speak to the time, as that's pretty much to you.  But we can tell you this much:  ductless air systems are great to have all year long, so pretty much any time is a good time to install them.
What we can speak to with some authority, however, is the place for ductless air systems.  That's because there are several:
Any home that doesn't have or can't have ductwork installed, in either all or part of the home
New room additions
Attic make-overs
Or any other place in your home where you would like added indoor comfort without having to overtax you're already over-taxed home heating and/or cooling systems
Even though they took a little longer to catch on here, ductless air systems first started catching on in Japan and Europe in the 1980s.  In the U.S., they were first used to compliment an existing whole-house comfort system.  More and more, ductless air systems themselves are being installed to provide whole-house heating and cooling.
Here's why:
No ductwork needed.  Instead, outside condensing units are connected to wall-mounted blowers that efficiently distribute the air in your home.
Highly energy efficient.  Ductless systems are often more energy efficient than traditional central AC systems, especially since there's no ductwork that can spring a leak, for example, and cause cooled air to escape into the attic.
Easier to maintain.  Ductless air systems have fewer working parts, thus cutting down on system maintenance time.
Flexibility of use.  They can be used in both residential and commercial buildings.
Design flexibility, too.  Remember, you can have a ductless air system designed for one room, your whole house, or any amount of space in between.
Is ductless air right for you?  Contact Absolute Air today, and we'll be glad to help you decide on the best way to heat and cool your home.  In the process, we'll tell you more about how ductless air works, and how it might just work best for you.