Halloween Trivia & Fun Facts in Crandall & Forney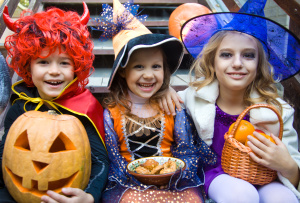 Halloween is right around the corner, and that means children and adults of all ages are gearing up for a night of tricks, treats, and hair-raising fun. So as you put the last finishing touches on your costume or haunted house, why not also brush up on some Halloween trivia!
Here are 6 interesting Halloween facts you can use to impress your party guests or co-workers as we prepare to celebrate the second biggest U.S. holiday of the year, at least by the standard of retail sales. Only Christmas generates more activity at the cash register.
Halloween is said to have evolved from the ancient Celtic holiday of Samhain, which marked the end of the harvest season and the beginning of winter. The Celts also believed that this change of season was a bridge to the world of the dead.
Illinois, California, New York, and Ohio produce over 100 million pounds of pumpkins each year. Now that's a lot of pumpkin!
Candy corn was first invented in 1898 by the Herman Goelitz Confectionary Company in California – now the Jelly Belly Candy Company. Today, nearly 35 million pounds of candy corn are produced each year.
Harry Houdini was one of America's favorite magicians, best known for his daring escapes. It's only fitting that he died on October 31, 1926.
More than twice as much chocolate is sold around Halloween than around Valentine's Day, with about 90 million pounds of chocolate being sold the week leading up to Halloween alone.
The movie "Halloween" was shot in only 20 days in the spring of 1978. While it was made on a shoe-string budget for just $300,000, it became the highest grossing independent film ever made up until that time.
Whatever plans you have for Halloween 2014, we hope you celebrate the occasion fully but safely.