Simple Home Improvement Ideas in Forney and Rockwall
Home ownership is much like a relationship. In the beginning, it's spontaneous and romantic, full of promise and potential. But over time, it can lose its luster, where the things we once found charming and sweet suddenly become annoying. In fact, we can sometimes get so focused on the flaws, that we forget what made us fall in love to begin with.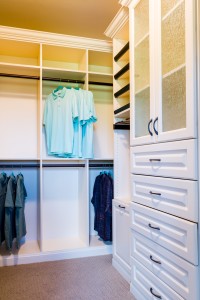 So this Valentine's Day – or anytime at all – make an effort to reignite that spark you once had for your home. Here are five simple tips to help you get started.
Drop a few pounds – Clear the clutter from your desks, tables, and counters. Get rid of the stuff you no longer use. Add smart storage solutions throughout your home, like a closet organizer for your bedroom; a coat, shoe, and accessory organizer for your mudroom; or, drawer organizers for your kitchen.
Switch things up – It's easy to get bored with your surroundings. But you can easily change the look and feel of a space with a few new accent pieces or a new furniture arrangement. Add a pop of color with new window coverings, an area rug, or a new table centerpiece.
Fix it – Ignoring that nail hole in the wall won't make it go away. Touch up peeling paint, re-caulk the tub surround, and replace that broken window screen. Nothing makes a home look unkempt like putting off a bunch of little, unsightly problems.
See the light – Lighting is everything. It can make a room feel warm and inviting, while bad lighting creates "drab and dreary." Consider adding recessed lights in your kitchen for an overall glow, accent lighting to highlight a beautiful built-in, or under-cabinet lighting to make food prep easier and more enjoyable.
Have a sense of humor – Your home should reflect your personality. Are you the outdoorsy type? Place fresh flowers or plants in every room. Love to read? Turn a small closet into a cozy reading nook. Love to travel? Collect interesting pieces from all the places you visit to display in your home.
Speaking of home improvement, how's your heating system been treating you lately? If you'd give it a "C" grade or worse for its energy efficiency and/or ability to provide whole-house comfort, then contact the home comfort specialists at Absolute Air today for the right solution, and always right on budget.