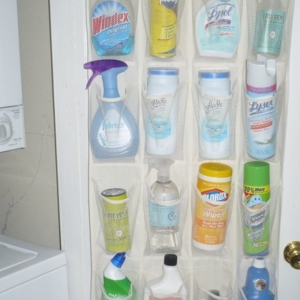 Let's say you're a teacher and report cards are due but, in this case, you're the only pupil and you're being graded on only one task:  creating order out of chaos. With that in mind, what grade would you enter in the computer on your own report card?  If it's one you wouldn't be proud of, you're a candidate for the following 5 home organizing tips.
Trust us:  they work.
Bins: Storage bins come in many different sizes and colors. Most are stackable, which allows you to make the most of an unused space. Use the height of a shelf and build up! Storage bins can be used to store spices and keep them separated, or to make packets of soup, dip mix, or hot cocoa more easily accessible.
Hanging shoe bag: Utilizing the back of a door – any door! – is a great way to organize and make use of previously unutilized space.  Other than help you organize shoes, hanging shoe bags can serve virtually any other purpose you have in mind.  How about as a space to house snacks for your kids, each child with their own pouch?  Or how about better organizing and storing cleaning supplies, a doll collection, school supplies, or scarves and gloves!  So many possibilities.
Lazy Susans: A Lazy Susan not only helps you organize under-cabinet items, but help you get to the stuff in back a lot quicker than might otherwise be possible.  So, the only question is, do you have enough of them for things like spices, baking supplies, cooking oils, and more.
Stepped shelving:  Stepped shelving is another convenient way to more easily reach items in the back spaces on pantry, closet and even cabinet shelves.  That way you can turn one shelf into two or more and organize the contents by how frequently you use them and by height.  Just one more way to save you time digging through the same stuff you just dug through yesterday.
Peg Boards: A peg board is a great addition to any pantry.  With a few S hooks on the board, you can hang kitchen utensils and cookware and, in the process, gain more drawer or shelf space. Colorful clothes pins can be affixed to the board and hold opened bags of snacks, pasta, or beans. You also can add shelves to a peg board for such items such as flour, sugar, and tea canisters.
If you get ambitious in creating more and better ways to organize your household, just be sure not to cover up your heating and cooling vents with new shelving or storage items.  That's because part of the effectiveness of your home comfort systems depends on unrestricted air flow.
If you have any questions at all before undertaking your next home improvement project about how it might impact your heating and cooling systems, just give us a call:  Absolute Air.  Your complete home heating and cooling resource.