The Right Insulation Can Help Reduce Your Home Energy Costs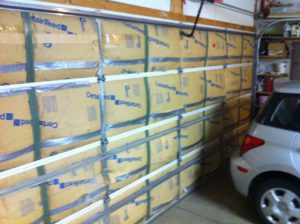 Insulation is one of the easiest ways to save on your heating and cooling costs. Depending on where you place it, it also cuts back on noise.  Here just a few of the ways you can accomplish both:
Outlets & Switches
Foam padding under an outlet cover greatly reduces heat loss. Outlets and switches are a significant source of energy loss and for just pennies you can fix the problem.
Garage Door
Adding a layer of insulation to the back of the garage door will keep your garage warmer in the winter, and your home along with it. The added layer of insulation also minimizes noise.
Doors and Windows
Adding weather stripping and caulk to all your windows and doors keep drafts out and warm air in. If you already have weather stripping in place, be sure to check it yearly as it can crack or detach over time.
Attics
Insulation can breakdown over time or perhaps wasn't installed properly in the first place.  Check your attic and crawl spaces to be sure there is enough insulation to prevent warm air from sailing through the attic and right outdoors.  The right amount is 6" deep with no gaps anywhere.  Keeping your attic well insulated also helps prevent ice dams from forming on the roof.
Ducts and Pipes
Insulating any air ducts and pipes located in unheated spaces can help minimize energy loss over time. Adding a layer around pipes, especially those on exterior walls, not only prevents heat loss but can prevent those pipes from freezing, cracking, and bursting while winter batters away outdoors.
Here's another way to keep your energy costs to a bare minimum this winter:  contact Absolute Air to request our heating system cleaning and inspection service.  A well-maintained system is more likely to operate at peak efficiency while reducing repair frequency and costs.