What to Do When Your Air Conditioner Freezes Up!
Imagine you're having an outdoor cookout in the middle of summer, and two things happen simultaneously, both involving ice. First, you run out of ice to serve your guests, so someone has to dash off to purchase more. But as you're pulling out of your driveway, something catches an eye.  An oddity, if you will.  And even though you see it, you don't believe it. So you put your car in park, get out, and go have a look for yourself.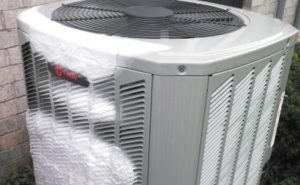 Sure enough, you're outdoor central AC unit is caked in ice. If this has happened to you for the very first time, backyard cookout or not, trust the fact it's not the first time we've seen it.  More importantly, we know exactly what to do to correct the problem.
Still, this is one you might be able to fix on your own. If your AC unit is still frozen, shut it off and allow it to cool completely. Next, go check out your system's filter, very likely in your attic since that's where most air handlers are installed, and the air handler is where you'll find the filter. If it's chock full of dirt, dust, and other particles, it immediately needs to be cleaned or replaced. Doing so will once again facilitate the kind of airflow necessary to allow your system to work at peak efficiency without freezing up.
Other than poor airflow, outdoor condensing units can freeze up when operating in cooler temperatures. If that's happened to your system before, you should consider installing an ambient temperature control that allows the unit to run properly when the temperature drops.
And, when all else fails, we won't! We're Absolute Air, your local full-service heating, air conditioning, and electrical service company. When it comes to your central AC system, we repair all makes and models, and every conceivable repair problem, including when it freezes up. Contact us now to learn more or schedule service.