Replacing R-22 with R-410A Refrigerant
As the Cost of Freon Continues to Rise, It Makes Increasing Sense to Upgrade to a Freon-Free Replacement System.
If you've recently added or replaced your conditioning system's supply of Freon – also known as R-22 refrigerant – you probably looked twice, maybe even three times at the price…in utter disbelief.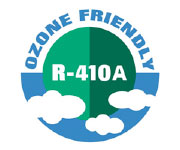 Worse, each new supply is likely cost more than the one before, and that's if you can obtain a supply at all.
Well, in 1987, an international environmental agreement was reached requiring the gradual phase-out of R-22 Refrigerant. Freon had been the refrigerant of choice for more than four decades, but over time tests have determined that the gases contained in Freon – hydrochlorofluorocarbons – are depleting the earth's protective ozone layer.
Here's how the world's industrialized nations responded:
Since January 1, 2010, all new AC systems have been and continue to be equipped with the more environmentally friendly R-410A
As of that date, chemical companies were required to stop producing new supplies of Freon…and now you know why it's harder and harder to come by.
Starting in 2020, Freon will no longer be available even for systems built before 2010 and still in operation.
For many of our customers, that's been more than enough reason to replace their older systems. Not just to save money on refrigerant charges, but to make a positive contribution to the atmosphere we all share.
How about you…ready to consider a new, energy-efficient, eco-friendly replacement AC systems?  If so, contact Absolute Air today to request a free in-home comfort analysis and new system quote. We can even assist you in apply for new system financing.