Ductless Air System | Mini-Split System
Who Said You Need Air Ducts to Enjoy Whole-House Comfort?
Let's say you've added a room to your home that your central cooling and heating systems don't reach. Or there's an existing room that isn't air conditioned like all the others, but you'd like it to be.
Or, how about this scenario?  You've been relying on window air conditioners and fans longer than you can recall because your house won't support air ducts?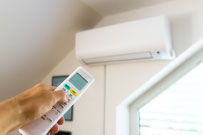 And now you get three possible uses of a ductless air system, one that provides warm and cool conditioned air for year-round comfort.
A ductless air system features at least one outdoor condensing unit.  But instead of connecting to an indoor air handler which sends conditioned air to your ducts, a ductless condensing unit connects directly to wall-mounted blowers that provide just the right degree in comfort.  Plus, each condensing unit can support up to 5 such wall blowers.
Here's more to like about a ductless air system from Absolute Air:
They're far more energy efficient and attractive than window units – more secure, too!
The units are completely programmable and operate by remote control.
They run so quietly, you'll barely notice your system is on…except, of course, for how comfortable you'll feel.
Greater ease of maintenance with one combined heating and cooling system doing the work of two.
Is a ductless air system right for your whole- or partial-house application?  Contact Absolute Air today and, together, we'll figure it out in a hurry.
In addition to new system installation, we service and repair all makes and models of existing ductless air systems. Whatever the indoor comfort need, Absolute Air is here to provide it, with your 100% satisfaction guaranteed.