Air Source Heat Pump | Heat Pump Installation
Now, Heat & Cool Your Home with One Extra-Energy Efficient System.
Air-source heat pumps are the most efficient way to enjoy the best in indoor comfort, all year long.
A heat pump moves heat from one location to another. In the winter, it moves outdoor heat inside to keep you warm; in the summer, it expels warm air inside your home to keep you cool.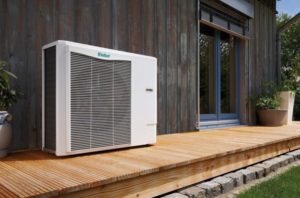 With one system to operate vs. two, you'll discover big savings on your utility bills. As a matter of fact, an air-source heat pump delivers up to 1.5 times more energy than the electricity it consumes. And that makes for a greener planet, starting right here in Greater Dallas.
A heat pump from Absolute Air also will feature super quiet operation and many years of reliable operation, especially with annual preventative maintenance.
Heat Pump Maintenance | Heat Pump Repair
Already have a heat pump system? If so, you'll be glad to know that Absolute Air services and repairs all makes and models. We recommend two system tune-ups per year – one each in the fall and spring – so your system will be primed for the seasonal changes of weather ahead.
Contact Absolute Air today for service or repair work on your heat pump or a free in-home comfort analysis and proposal on a brand-new system.