New Circuit Breaker Panel | Circuit Breaker Upgrade
Providing all the Safe Power You Need for Your Busy Home Life.
Whether you're planning to sell your house or just concerned that all your primary systems are in the best possible shape, you can't help but wonder about your electrical system from time to time.
For one that, it won't last forever, but you already know that. But when should you be thinking about upgrading or replacing it?  Unfortunately, there's no simple answer to that question, but there are clear indications, including these: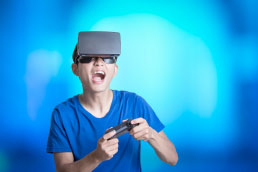 Lack of routine electrical maintenance.  If you can't recall the last time a licensed electrician inspected your electrical system, the time is now.  That's the best way to determine if you have all the power you need for today's more sophisticated electronic equipment, including newer heating and cooling systems, computers, gaming equipment, and more.
Fuses are frequently burning out or circuits are frequently tripping. The more this happens, the more your electrical system is telling you it's overloaded and needs an upgrade or, at the extreme, a full replacement.
Switches and outlets are warm to the touch. Warm or hot electrical switches and outlets are a way of alerting you to an overloaded circuit, frayed wiring, or some other electrical problem.  As soon as you feel any heat coming from yours, contact Absolute Air so we can accurately troubleshoot and diagnose the problem.
You've purchased or are planning to purchase high-end home electronics.  Replacing a conventional refrigerator with one that includes a built-in TV is just one of numerous luxury purchases available to you.  And yet, with each such purchase, an added demand is place on your electrical system?  Is yours up to the challenge?
The Benefits of an Electrical Service Upgrade
By upgrading or replacing your current electrical system, you gain in numerous ways: 
Greater convenience
Reduced risk of repair
Reduced risk of electrical fire
Added resale value
And, most importantly, added peace of mind
For more information or a free in-home electrical power analysis and new system quote, contact Absolute Air today.  The company with the right solution for every electrical service need.