Indoor Lighting Solutions | Outdoor Lighting Solutions
So Many Possibilities.  So Many Practical Solutions.
If light served only to illuminate, we wouldn't have much to talk about right now, would we? We could come over to your house, hook up a string of bare incandescent bulbs wherever you need more light, and you'd be good to go.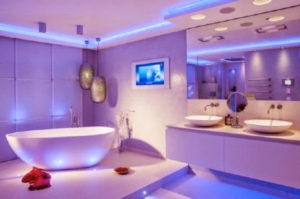 Happily, for everyone concerned, it doesn't work that way.  Because light – whether ambient or electrical – does so much more.  It adds beauty to your home, indoors and out.  It enables you to showcase works of art and other valuable possessions.  It can even keep unwanted guests at bay, preferring to lurk in the shadows of someone else's property.
Here at Absolute Air, we have the right lighting solution for every indoor and outdoor need and desire.  Let's look at some of the possibilities.
Indoor Lighting Ideas
What exactly could you accomplish with the right lights in all the right places?  The possibilities are limited only by our collective imaginations:
Recessed LED recessed lighting canisters in your kitchen and elsewhere with bulbs that never need replacing
Task lighting under your cabinets for greater visibility while preparing a meal or cleaning up afterward
Wall sconces for a touch of elegance in your entry way
Track lighting to highlight a gallery wall or shed just the right amount of light over your kitchen island
Ceiling fan and light combinations
Accent lighting to showcase a work of art, a favorite bookcase, or even one or more architectural features of your home
At Absolute Air, we can help bring your vision to life…more than that, we can make creative suggestions of our own.
Outdoor Lighting Ideas
Outdoor lighting is designed to serve a dual purpose:  added architectural beauty and greater peace of mind for your entire family.  Here's how that might apply to you: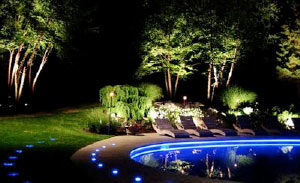 Motion sensitive lighting – Activated by human motion (you can, animals can't) to provide added security while you progress from point A to point B.
Footpath lighting – They light the way to and from your driveway to the front door, front yard to back, even a landscaped path that leads to your garden or gazebo.
Spotlights – A great way to keep an eye on your kids and pets after dark, and thus to provide you with more time to enjoy your property.
LED tree and shrub lighting – Adds a beautiful landscaping touch all year long.
Indoors or out, turn to Absolute Air to accomplish more and see your home in a whole new light.  And all with a guaranteed upfront price quote and your satisfaction guaranteed.