Whole-House Generator | Standby Generator
The Right Choice for Worry-Free Electrical Service.
Northern Texas is no stranger to violent storms and resulting power outages. Well, if that's one party you're tired of attending, Absolute Air can help see to it you never lose power again.
How?  By installing a whole-house generator you can depend on having all the power you need to keep your lights, appliances, how comfort systems, and everything else that uses electricity running…even when the public power supply is temporarily not available.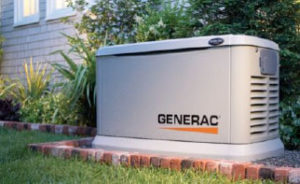 Whole-house generators are powered by your home's natural or propane gas supply and activate once they sense a loss of electrical power. Likewise, once power is restored, your generator will automatically shut itself off.  In between, you'll have whole-house electrical power, not just enough to keep a few light fixtures and systems running, which is all you can count on from a portable generator.
Another advantage of whole-house vs. portable generators is how quietly the former operate.  Portable generators, on the other hand, can keep an entire neighborhood awake at night with all the racket they make.
At Absolute Air, we also maintain and repair whole-house generators to help keep yours in the best possible shape.
Contact us today to learn more or schedule a free in-home consultation and new generator quote.