Whole-House Surge Protector | Surge Protection
One Good Power Surge Deserves the Right Kind of Protection.
Quietly, as you go about your day, something is going on with your electrical system that you rarely even notice:  power surges.  To the tune of about 2,200 per year, per household.
Why don't you notice?  Because most them cause no harm.  Bigger power surges, on the other hand, can wipe out even your biggest and most expensive electronic equipment, including heating and AC system, appliances, televisions, and more.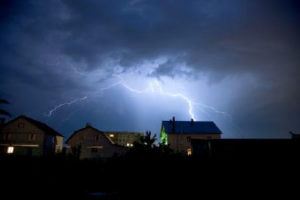 That wouldn't be so terrible if your insurance covered the damage and replacement cost, right?  The problem is, most policies don't provide power surge coverage.
That's where we come in: Absolute Air. At your request, we can install a whole-house surge protector that picks up where your power strips with surge protection leave off.
Why You Need Whole-House Surge Protection
A whole-house surge protector can absorb up to 40,000 amps of electricity per incident.  That doesn't make them full-proof, but it does make them effective against lightning strikes and the kind of power surge that occurs once the power comes back on following an electrical blackout.
Power strips with built-in surge protection, by comparison, can absorb up to 6,000 volts of electricity.  So yes, they serve a valuable purpose, but are no substitute for the kind of whole-house surge protection can provide.
Call today to learn more about how a whole-house surge protector can save you thousands of dollars by protecting all your electronic gear and systems.  What's more, we're ready to schedule a free in-home consultation during which we'll answer all your questions so you know exactly what to expect from your local electrical service pros…Absolute Air.