How to Celebrate National Family Month in Kaufman and Crandall
These days, it seems like there's a holiday or observance for everything. For instance, did you know that May is National Egg Month? That's right, an entire month celebrating the "incredible, edible egg"! May also happens to be National Hamburger Month, which is only fitting since it is also National BBQ Month.
But along with the often silly and fun observances, we also have those that aim to make the world a better place. Like National Family Month.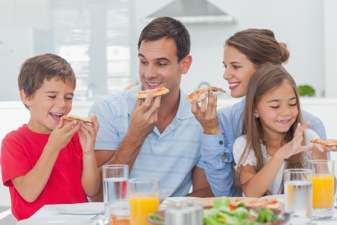 Celebrated during the five weeks between Mother's Day and Father's Day, National Family Month encourages families to spend more quality time together, to reconnect, and to recognize the importance of family involvement in shaping the lives of children.
So in honor of Family Month, here are a few simple ways spend more time with the youngest members of your family.
Put a ban on electronics for a week (or even a day). The fewer the distractions, the more present and "in the moment" we can be with our loved ones.
Eat dinner together. Talk about your day, share your plans and achievements. If dinner doesn't work, aim for breakfast. Just enjoy good food and conversation every chance you get.
Learn something new together. Get everyone out of their comfort level by trying something new. Art classes, yoga, indoor rock climbing, or bird watching – tons of possibilities!
Start a new tradition. Perhaps every Sunday is family dinner day, or the last Friday of the month is pegged for a backyard (or living room) campout.
Cook together. Better yet, try making new dishes from around the world. Get your kids involved with the menu planning, shopping, and prep. The older ones can even be responsible for making the entire meal.
Reach out. Teach your kids the importance of family by staying in touch with yours. In this day and age, distance is no excuse for not keeping in touch with loved ones.
At Absolute Air, we support family togetherness in our own unique way, bringing higher levels of indoor comfort, convenience, and safety to every customer we serve. If we haven't already, we hope to earn that opportunity with your family, as well.